Welcome to Righteous Entertainment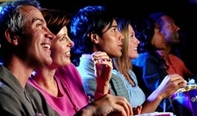 An award winning film and television production company which focuses on developing, producing, and exposing, family friendly entertainment to the world!
Originally founded by husband and wife team Moe and Nicki Lynch, Righteous Entertainment has grown into a full service, high definition production and post-production company.  RE is most known for commercial video production, event video recording, television production, scripts, and films per your request.   Browse our site for the latest news, and releases, and join our mailing list to receive our films, and television programming direct to your inbox!
Video Production Services
CLIENT COMMENTS
~ Stephanie L. Jones

"Righteous Entertainment is the absolute best! Not only does my results prove it, the fact that I have literally referred hundreds of people from around the world to them, says it all.
REQUEST A CONSULTATION