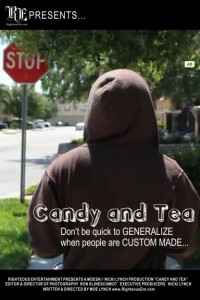 Inspired by the Martin / Zimmerman incident, "Candy and Tea" explores a back story to the 2 main characters.  Andy White, President of the Neighborhood Watch Committee is determined to take a stand.  A victim of bullying as a child, he grows into an adult who finally resolves to fight back!  Unfortunately his fight starts with a young hooded teen walking down the street, carrying candy and tea.   The short film illustrates why we should not be quick to generalize when people are custom made…
Share your Thoughts
Do you have any comments, feedback, or ideas regarding the film and the unfortunate Trayvon Martin / George Zimmerman incident.  We created this film to invoke intelligent conversation and insight on just how much we pre-judge people based on appearances, or our experiences.  When in fact, no 2 people are alike.  We would love to hear your input regarding the topic.  When responding, please be respectful of others' opinions, comments, and beliefs.
Comment on Facebook
comments
Comment on Facebook
comments
1 Comment to "Candy and Tea"
Search the site
Request A Consultation
Browse News
Client Testimonials
~ Dr. Guilford, USF Sarasota Manatee

"Righteous Entertainment did a project for us that was exceptionally time sensitive and important. They were very hard and dedicated team who was able to complete the work with great accuracy and quickly-even before our time line. It was a real pleasure having them work for us and I would not hesitate to hire them again! Arthur M. Guilford Ph.D. Regional Chancellor University of South Florida, Sarasota"